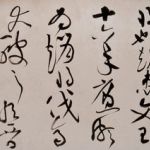 Literati China: Examinations, Neo-Confucianism, and Later Imperial China
Explore China's imperial period, with a focus on the Song dynasty and the role of the exam system in government.
Description
Fundamental changes in government, the economy, and broader society took place between the 8th and 11th centuries in China. The state aristocracy gave way to new literati elite: educated men who sought to enter government through competitive examinations. A new kind of Confucianism also took shape, which prized the moral autonomy of individuals. With this, the later imperial period of China's history begins.

From our series on Chinese history and culture, this course focuses on the changes brought by the Tang-Song transition, including the reconfiguration of power, urbanization, Neo-Confucianism, and the shared values as expressed in the state examination system.

Join us to learn how a shifting social and political elite ultimately brings unity to China, ushering in an age of global empire.
---
Pricing:
Free
Level:
Beginner
Duration:
15 weeks, 1h-3h/week
Educator:
Peter K. Bol
Organization:
Harvard University
Reviews
Would you recomment this course to a friend?
Discussion
Other courses you might like