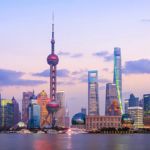 Contemporary China: The People's Republic, Taiwan, and Hong Kong
Use the case study method to study China from the rise of Deng Xiaoping to the present.
Description
Using case studies from the Harvard Business School, this course will cover the contemporary Chinese scene by focusing on five main themes in China's development: agriculture, entrepreneurship, education, environment, and literature.

You'll examine the period from Deng Xiaoping's rise in 1978 to the present, using the lenses of sociology, political science, and economics. You'll learn how China has maintained one-party rule in an era of reform and internationalization, and how contemporary developments — like the current conception of the "Chinese Dream" — are influenced by the legacies of China's past. You'll also examine Greater China with a focus on the Taiwan model and Taiwan's relationship with the People's Republic of China.

Developing your own approaches to history, you'll gain a critical appreciation of China's literary, philosophical, political, and cultural resources. Enroll now to understand China's global leadership role and to learn if the 21st century is truly "the Chinese century."
---
Pricing:
Free
Level:
Beginner
Duration:
15 weeks, 1h-3h/week
Educator:
Peter K. Bol
Organization:
Harvard University
Reviews
Would you recomment this course to a friend?
Discussion
Other courses you might like