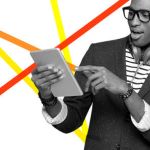 Digital Skills: Grow Your Career
Learn about how digital is changing the world of work, and how you can successfully grow your career in the digital age.
Description
Develop your career with digital skills
Digital technology now touches almost every aspect of our lives, including work. On this course, you will explore how you can build a successful career in the digital age. You'll get a closer look at the meaning of digital, and how it has changed the way we work.
You'll also explore the different paths you could take to grow your career, and what role digital can play in these. Plus, you will also learn about the key skills we all need to thrive in this new environment, and how you can find support and keep learning to reach your goals.
This course is for those seeking to develop their entrepreneurial skills, preparing to enter the workplace or looking to change careers. No prior experience or qualifications required.
Interested in growing your digital skills more widely? Discover more Digital Skills courses from Accenture.
---
Pricing:
Free
Level:
Beginner
Duration:
1 hours/week
Educator:
Candida Mottershead
Organization:
Accenture
Reviews
Would you recomment this course to a friend?
Discussion
Other courses you might like