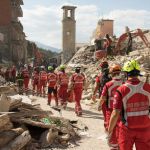 Be Ready: Staying Safe During Disasters
Learn about the key preparedness actions you can take to stay safe during various disasters and extreme weather events.
Description
Discover what to do when disaster strikes
As extreme weather events continue to affect the lives of millions of people across the globe, it's never been more important to know how to stay safe when disaster strikes.
On this course, you'll find out about the key actions you can take to reduce the risks associated with disasters and extreme weather events.
You'll learn how to create your own disaster kit, and develop a personal and family response plan, to use if an extreme event occurs.
You'll get practical advice on preparing for, and responding to earthquakes, extreme temperatures, flooding, tsunamis, and hurricanes.
This course is aimed at anyone interested in disaster preparedness, but may be of particular interest to teachers, healthcare professionals, and those involved in risk assessment and risk reduction.
---
Pricing:
Free
Level:
Beginner
Duration:
2 hours/week
Educator:
Martin Krottmayer
Organization:
International Federation of Red Cross and Red Crescent Societies
Reviews
Would you recomment this course to a friend?
Discussion
Other courses you might like