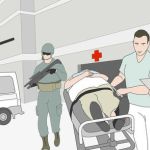 Global Health, Conflict and Violence
Understand the role of medical peace work, and consider the role of healthcare workers in times of conflict and violence.
Description
Explore the role of medics and healthcare workers in promoting peace
On this course you will learn about the key principles and different forms of medical peace work in the context of global health, conflict and violence. You will consider the role healthcare workers have to play in the prevention of violence and peace practices.
You will examine scenarios such as working in a conflict zone, nuclear explosions, storms, floods, heatwaves, infectious disease, migration and violent conflict. In each case you will consider the effects of these on global health.
This course is for global health professionals as well as undergraduate and postgraduate students in healthcare professions (medicine, nursing, allied and public health) and global health and development studies.
---
Pricing:
Free
Level:
Beginner
Duration:
3 hours/week
Educator:
Stefi Barna
Organization:
University of Bergen
Reviews
Would you recomment this course to a friend?
Discussion
Other courses you might like