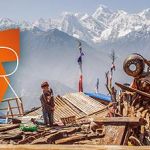 A Resilient Future: Science and Technology for Disaster Risk Reduction
Discover how science and technology help us reduce disaster risk and increase resilience.
Description
This course aims to introduce participants to existing and emerging technologies suitable for disaster risk reduction while promoting the overall aim of sustainable development. The course focuses on three main natural hazards- floods, landslides and earthquakes. It also discusses the challenges and limits of adapting and adopting technologies depending on context (Global North and Global South) with examples from Switzerland, Nepal, Colombia, Philippines and other countries.
Image: "Earthquake in Nepal" by Asian Development Bank (www.adb.org) is licensed under BY-NC-ND 2.0 (permission granted 18 January 2016)
---
Pricing:
Free
Level:
Advanced
Duration:
7 weeks, 2h-4h/week
Educator:
Silvia Hostettler
Organization:
École polytechnique fédérale de Lausanne
Reviews
Would you recomment this course to a friend?
Discussion
Other courses you might like