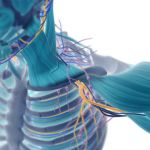 What Drives the Body?
Get an introduction to the different components and systems in the body that keep us alive and healthy.
Description
Find out how different parts of the body communicate with each other
Why is communication so important inside the human body?
This course will show you how the body's communication system works, and how individual components produce energy.
You'll learn about the key energy pathways used inside the body, and how different elements communicate effectively.
You'll find out about the biomolecules involved in communication, and the role of endocrinology and immunology.
You'll understand how the body regulates itself, and improve your knowledge of disease development and prevention.
This course is aimed at anyone who is interested in how the body regulates and communicates with itself. Existing knowledge of components of the body is not essential but you may find it useful to complete What is the Body? first if you are completely new to biology.
---
Pricing:
Free
Level:
Beginner
Duration:
4 hours/week
Educator:
Lynsey Christie
Organization:
University of Aberdeen
Reviews
Would you recomment this course to a friend?
Discussion
Other courses you might like