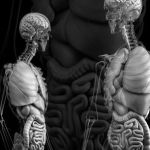 Exploring Anatomy: the Human Abdomen
Explore the anatomy of the human abdomen and understand its clinical importance.
Description
You will be introduced to the human abdomen and its many complex structures through stimulating discussions on common surgical scenarios and current research. Each week, we will focus on a specific area of the abdomen; starting at the anterior abdominal wall and be able to detail the anatomy of numerous organs including the stomach and liver. Specialists will come together to compare and discuss contrasting surgical techniques. This will help you to apply your understanding of basic anatomy to common clinical scenarios and introduce you to research being undertaken at the University of Leeds.
This course is for anyone that is interested in the human body and specifically the inner workings of the abdomen. We will assume a very basic level of anatomical knowledge. By completing all aspects of the course you will have achieved 14 hours of CPD time.
---
Pricing:
Free
Level:
Beginner
Duration:
4 hours/week
Educator:
James Pickering
Organization:
University of Leeds
Reviews
Would you recomment this course to a friend?
Discussion
Other courses you might like