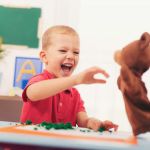 Good Practice in Autism Education
Autism is a highly varied condition and can be associated with exceptional academic ability through to intellectual disability.
Description
Currently there are many modalities of schooling for students with autism, including general special schools, autism-specific special schools, autism units within mainstream schools and being in a mainstream classroom.
But what are the benefits and challenges of these different types of education? What are the implications for inclusion? What constitutes good practice within autism education? These questions are addressed in this course and are crucial for enabling children on the autism spectrum to be educated to their greatest potential.
The primary target audience are those who work with autistic children in schools, such as teachers and teaching assistants. However all practitioners can benefit (eg speech and language therapists). The target age range is compulsory education (4-18 years). The course will also be of benefit to interested parents of autistic children, as well as the autistic community themselves.
---
Pricing:
Free
Level:
Beginner
Duration:
3 hours/week
Educator:
Mark Brosnan
Organization:
University of Bath
Reviews
Would you recomment this course to a friend?
Discussion
Other courses you might like