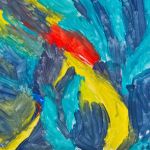 Understanding Autism
Understand more about autism, including diagnosis, the autistic spectrum and life with autism, with this online course.
Description
First identified over 70 years ago, autism is a lifelong developmental disability affecting how a person communicates with and relates to others, and how they make sense of the world. It is a spectrum condition; all people on the spectrum share certain difficulties, but their condition affects them in different ways.
Around 700,000 people in the UK are on the spectrum, 1 in every 100 people. There are no blood tests or brain scans that will detect autism - so what exactly are we talking about? Does autism actually exist?
Image: Connor Sparrowhawk #JusticeforLB
You don't need any prior experience or qualifications to do this course but it might be of interest to practitioners in the field of autism, healthcare workers, people on the autism spectrum, and parents or carers.
It is ideal for anyone considering postgraduate study in the field, such as the PCert in Autism Studies at the University of Kent.
---
Pricing:
Free
Level:
Beginner
Duration:
3 hours/week
Educator:
Jill Bradshaw
Organization:
The University of Kent
Reviews
Would you recomment this course to a friend?
Discussion