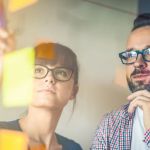 Business Model Thinking
Get an introduction to business model thinking and turn your ideas into real business opportunities.
Description
Learn how to add value to your business
Do you have a business idea? Can your idea make a difference?
This course will show you how to use business model thinking and other tools and techniques, to develop your ideas into business opportunities.
You'll learn how to assess the viability of your business idea and the value it will add to your business.
You'll understand how businesses of all sizes can add value in a global market, and have societal impacts and benefits.
You'll find out about the importance of vision, mission and value proposition for your business.
This course is aimed at people who want to move into business management. It will be of particular interest to those looking to progress into senior roles or those with an interest in developing new business ideas.
---
Pricing:
Free
Level:
Beginner
Duration:
3 hours/week
Educator:
Dr Matthew Bennett
Organization:
Coventry University
Reviews
Would you recomment this course to a friend?
Discussion
Other courses you might like