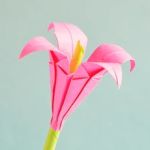 Origami tutorials
Origami is the art of paper folding. The starting point is typically a single sheet of square paper which is the folded into different sculptures like, e.g., animals. Simple models only require little ressources and time, more complex designs, however, require precision and time. Have a look at the origami tutorials below and become an origami master yourself!
Free Origami courses and tutorials
Additional useful resources

Origami Tips & Tricks from our community
Do you have more tips and tricks? We would love to hear about it.
Sign up!
---

Akari
·
241 weeks ago
I know it is tempting, but as a new folder your should NOT try to fold the nicest, most complicated origami you can find. It is likely that you will get frustrated and feel that you don't have the skill. Origami is difficult and takes a lot of practice. Start with something simple and work your way up to intermediate and eventually complex models. In this way Origami can bring years of joy and you won't be discouraged from day one.
Filter courses
Difficulty level
Costs
Filter
Share this page
Similar topics that might be interesting for you