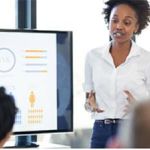 Visual Presentation
Learn how impactful images can enhance your presentation, communication and messaging to impress your audience.
Description
Visual elements are critical components in effective communication and presentation. The importance of imagery and how it relates to branding, memory recall, and awareness cannot be underestimated. Whether it's a document, presentation, or video, using one relevant image can replace an entire section of text and be more impactful.
This course, part of the Soft Skills Professional Certificate program, is an introduction to key principles, best practices, and ethics of visual communication for professionals who are not designers by trade. Learners will practice creating visual communication that seeks to educate, inform, persuade, and/or entertain specific target audiences. You will also analyze visual messages appearing in a variety of media and digital platforms.
This course may be audited free of charge. Learners also have the opportunity to earn a verified certificate of completion. Exclusive learning opportunities such as live events hosted by subject matter experts will be available for verified learners.
---
Pricing:
Free
Level:
Beginner
Duration:
3 weeks, 4h-6h/week
Educator:
Lori Marra
Organization:
Rochester Institute of Technology
Reviews
Would you recomment this course to a friend?
Discussion