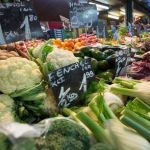 Trust in Our Food: Understanding Food Supply Systems
How much do you trust your food? Learn about food supply systems, safety, sustainability and nutrition and quality.
Description
Explore how your food reaches you
How does your food reach your plate? Can you trust your food? Find out with this online course that will help you understand global food supply systems.
You'll explore the challenges and responsibilities of different people in the food system, including the role of the consumer. You will assess the information available to consumers relating to issues of food safety, nutrition and quality, sustainability of production methods and how these affect consumer trust. You'll leave the course knowing more about where your food comes from and how you can make a difference in the food supply chain.
This course is for anyone interested in learning about where their food comes from.
---
Pricing:
Free
Level:
Beginner
Duration:
3 hours/week
Educator:
Alice Mauchline
Organization:
EIT Food
Reviews
Would you recomment this course to a friend?
Discussion