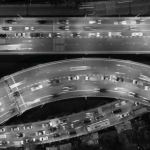 Transport Systems: Global Issues and Future Innovations
Discover how the transport sector can develop infrastructures that meet the needs of a 21st century population.
Description
Explore how and why transport systems must change in the 21st century
Understand the challenges faced by the transport sector and how transport professionals can develop systems and services that meet the needs of the 21st century.
Discover the factors for effective transport planning and modelling, and examine the role of transport professionals in designing solutions for the future. Learn how emerging technologies such as Connected and autonomous vehicles and high-speed rail can address global issues and examine how transport sector solutions can become sustainable, reduce pollution and improve the health and safety of citizens globally.
This course is for undergraduate students and mid-career professionals interested in a career in the transport industry.
It will be especially useful for undergraduates studying engineering, urban planning, mathematics, economics, geography and psychology. It will also be useful for mid-career professionals already working in the transport sector or considering a move to the transport sector from other areas such as engineering, scientific research, local and national government policy making, construction and logistics.
---
Pricing:
Free
Level:
Beginner
Duration:
4 hours/week
Educator:
Yue Huang
Organization:
University of Leeds
Reviews
Would you recomment this course to a friend?
Discussion
Other courses you might like