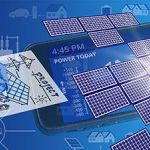 Solar Energy: Capstone Project
Apply the knowledge and skills gained in the Solar Energy Engineering MicroMasters program to a solar energy project.
Description
Use the knowledge of Photovoltaic technology, systems and microgrids to design your own engineering project.
This project-based course finalizes the Solar Energy Engineering MicroMasters program and focuses on applying the knowledge you gained to a solar energy project. You have the choice to work on a project provided by the course team, within which you have the flexibility to align it with your own ambitions. These projects can be focused on design, analysis, monitoring or integration of any photovoltaic technology, system and/or integration.
First, you will submit a draft version of your project report, and after a review by the course team, you will submit a finalized report.
Your final product is a written paper on the results of your project. This paper will be assessed by a professor. You will be assessed on your ability to justify design choices, to critically analyze the performance of systems, to find creative solutions and to show the potential of your solution.
Finding a sponsor for your project within a company, institute or university is encouraged.
This is the last course of the Solar Energy Engineering MicroMasters Program designed to cover all physics and engineering aspects of photovoltaics: photovoltaic energy conversion, technologies and systems.
You can start the capstone project after completing PV1x, PV2x and PV3x. However, you will need to complete PV4x to be able to submit the final report for the capstone project.
Note: The capstone project is only accessible for ID verified MicroMasters learners.
---
Pricing:
Free
Level:
Advanced
Duration:
12 weeks
Educator:
Arno Smets
Organization:
Delft University of Technology (TU Delft)
Reviews
Would you recomment this course to a friend?
Discussion
Other courses you might like