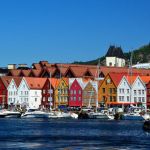 Norwegian for Beginners 2
Continue to improve your understanding of the Norwegian language and Norwegian culture.
Description
Develop your Norwegian speaking and listening skills
Build on what you have learnt in the Norwegian for Beginners 1 course and develop your Norwegian communication skills.
On this course, you will learn to speak in more complex sentences and describe other people and objects. You will understand how to use Norwegian past tenses in conversation and talk about what you have done and why. You will also cover grammar rules including the inflection of adjectives and subordinate clauses.
Whether you're looking to move to Norway or simply learn the language, you will feel more confident in using basic Norwegian by the end of the course.
The course is aimed at English speakers who want to learn Norwegian and have completed the Norwegian for Beginners 1 course.
To take part on this course, you need to use Norwegian characters on your computer keyboard.
---
Pricing:
Free
Level:
Beginner
Duration:
6 hours/week
Educator:
Veruska De Caro-Barek
Organization:
Norwegian University of Science and Technology (NTNU)
Reviews
Would you recomment this course to a friend?
Discussion
Other courses you might like