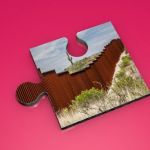 Introduction to Intercultural Studies: Crossing Borders
Take a closer look at geographical and cultural borders and understand their effects on people who occupy them or cross them.
Description
Learn what borders are and what motivates people to cross them
When thinking of borders, images of division often come to mind. This introductory course will help you learn how borders can both divide and connect territories or people.
You'll encounter and discuss a range of different borders and employ theories to analyse and explain the functions and effects of different borders on space, and individuals who occupy them and cross them. You'll explore different circumstances of crossing borders focusing on motivations such as travel or immigration and understand the effects of the invisible borders we all cross everyday.
The course is for anyone with an interest in the way in which borders shape and influence how we view each other, you don't need any previous experience.
This course is also ideal if you are preparing to move to a different country for work or study or you work with groups of people from different cultures to yours. By completing all aspects of the course you will have achieved 14 hours of CPD time.
---
Pricing:
Free
Level:
Beginner
Duration:
5 hours/week
Educator:
Jane Wilkinson
Organization:
University of Leeds
Reviews
Would you recomment this course to a friend?
Discussion
Other courses you might like