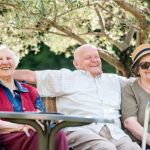 Improving Palliative Care in Care Homes for Older People
Examine how care homes are organised in Europe and how palliative care in care homes can be improved for older people.
Description
Enhance your personal or professional interest in palliative care in care homes
In most countries, the population of older people is rising. Some older people spend their final phase of life in a care home, nursing home, or long-term care facility. It's important the staff in care homes know how to provide skilled and compassionate care.
On this course, you will learn how care homes in six European countries can be improved using the research from a project called 'PACE, Palliative Care for Older People', funded by the European Commission. Using the PACE Steps to Success programme, you will learn how to improve palliative care in care homes for both residents and staff.
This course is for staff working in care homes in either a management or caregiving role. This includes staff and volunteers that deliver services in care homes. This course is also ideal for older people and their families wanting to learn more about care homes.
---
Pricing:
Free
Level:
Beginner
Duration:
3 hours/week
Educator:
Sheila Payne
Organization:
Lancaster University
Reviews
Would you recomment this course to a friend?
Discussion