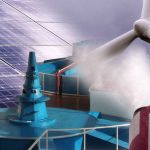 Exploring Possible Futures: Modeling in Environmental and Energy Economics
Take a look at the future and learn how to develop and use models in environmental and energy economics.
Description
Make informed decisions about pressing environmental issues.
What will our future look like? Will we continue burning fossil fuels or will we live in a 100% renewable world? How can we address climate change and what policies do we need to implement?
We will provide you with model examples to make you familiar with aspects of economic modeling and state-of-the-art research on current debates in energy policy.
This online course explores these concerns, using models in environmental and energy economics. You will learn how to design models, how to interpret and use results to make informed decisions, and how to use models to assess energy and environmental policies.
This course is intended for anyone interested in the topics of environmental economics and energy economics, including students at MSc or advanced BA level and policy makers.
To gain the most from this course, we encourage you to examine the details of the provided model examples, which require some basic knowledge in mathematics and microeconomics.
---
Pricing:
Free
Level:
Beginner
Duration:
4 hours/week
Educator:
Frank Krysiak
Organization:
University of Basel
Reviews
Would you recomment this course to a friend?
Discussion
Other courses you might like