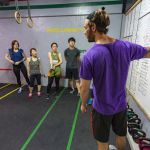 Coaching in the Knowledge Era
Find out how to become a successful coach in the knowledge era and learn key coaching skills.
Description
Adapt your coaching skills to the knowledge era
We live in a world where technology is constantly changing and information can be shared instantly. As a result, coaches need to be able to adapt their skills effectively to working in the knowledge era.
On this course, you'll explore what it means to be a coach in the knowledge era, and recognise why different coaching techniques are required to be successful.
You'll familiarise yourself with a number of coaching approaches and learn to apply these to your own practice. You'll also discover how to harness the collective intelligence of your team in order to motivate and develop others.
This course is aimed at anyone with an interest in sports coaching, but may be of particular interest to those already working in the area.
---
Pricing:
Free
Level:
Beginner
Duration:
3 hours/week
Educator:
Paddy Upton
Organization:
Deakin University
Reviews
Would you recomment this course to a friend?
Discussion