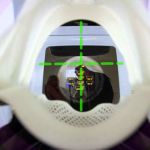 An Introduction to Radiation Oncology: From Diagnosis to Survivorship
Learn about how radiation therapy is used to treat cancer including current treatments and exciting innovations on the horizon.
Description
Understand how radiation therapy is used to treat cancer
Radiation therapy is one of the key treatments for cancer. On this course you will learn from healthcare experts about how it works, the various benefits, and myths surrounding radiation therapy. You will also learn about the treatment pathway if you're prescribed a course of radiaton therapy.
Throughout the course you will find clear, straightforward information on radiation therapy as a cancer treatment. Finally you will look at the exciting new radiation therapy treatments being developed as a system of 'personalised medicine'.
This course is for cancer patients who are likely to undergo radiation therapy as part of their cancer management plan. It will also be of interest for carers, family members and health professionals who may work with cancer patients (for instance physiotherapists, dieticians, occupational therapists, speech and language therapists, dentists, nurses and general practitioner or family doctors).
---
Pricing:
Free
Level:
Beginner
Duration:
4 hours/week
Educator:
Michelle Leech
Organization:
Trinity College Dublin
Reviews
Would you recomment this course to a friend?
Discussion